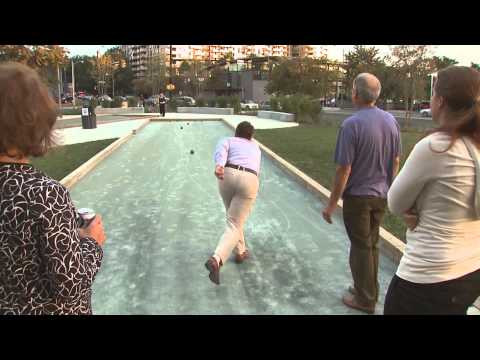 We love our parks in this county, and there's a new one just opened in Ballston. We'll show you what's special about this park in a moment, but first let's get caught up on other news Around Arlington.
It's time to nominate your favorite local business for the annual People's Choice ABBIE Awards. You have until October 4, to nominate any Arlington business in categories like "Best Happy Hour" or "Best Customer Service", you can even vote for the "Best Place to take a Date". To vote visit arlingtonva.us/Abbies.
One business that needs congratulating is Skanska, who have built Arlington's first LEED Platinum building at 1776 Wilson Blvd. This is the highest green building certificate possible, and means the latest green technologies available have been used.
Its official! Arlington Mill Community Center held a ribbon cutting and tour to celebrate its opening. The new facility has a gym, senior center and programs for all ages. It's open every day, so stop by and check it out!
Dogtober Day is almost upon us again. It's back at Lacey Woods Park on October 5 from 1-3. You can enter your dog in categories that include most adorable, cutest costume and more. Or just show up and watch the fun.
So, about that new park… along with benches, paths and flowering shrubs, it's got: not one, but two, bocce courts! Take a look as this ancient game finds fans in a new generation.
You'll have to bring your own bocce set to play, Bocce courts can be reserved ahead of time, or are available on a drop-in basis. Well, that's it for this week. Thanks for watching! And we'll see you Around Arlington.
Filed Under: Around Arlington • Arts & Culture • Ballston • Business • Clarendon • Columbia Pike • County Initiatives • Courthouse • Crystal City • Environment • Health & Fitness • Housing • News • Parks & Recreation • Projects & Planning • Rosslyn • Technology