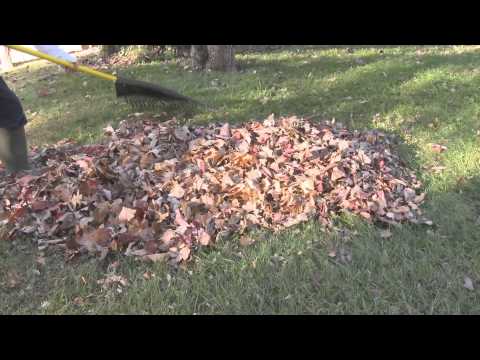 To Learn more about the program, visit the Department of Environmental Services webpage.
During the months of November and December, Arlington County collects leaves from residents who receive county curbside trash and recycling services. Residents can rake their leaves in loose piles to the curbside for Vacuum Leaf Collection , or put their leaves in Biodegradable Leaf Bags for collection. In a classic recycling effort, the County mulches the leaves and brush it collects from residents, and grinds them to create mulch that is available to residents. This year Arlington County is taking a proactive approach to enhance the leaf collection program based on citizens concerns raised last year with thorough research and planning. Find out more about this years leaf collection planning process.
In 2006, Arlington recycled enough leaves to cover the Wizards basketball court at the Verizon Center with a 18-story leaf pile!
Collection Schedule – Arlington 's Department of Environmental Services (DES) comprehensively reviews historical data, analysis of tree canopy type and density, the National Weather Service Forecast, the Virginia Dept. of Forestry Forecast, and resident feedback to develop our leaf collection schedule. The schedule helps us to better allocate collection resources and serve neighborhoods when fallen leaves are heaviest. Yet, even with all of this analysis and planning, it's still ultimately up to Mother Nature as to when the leaves will fall.
Commitment to Service – The leaf collection program is an important County service with nearly 100 people dedicated to the program each season and over 30 pieces of equipment including vacuum trucks, rear loading collection trucks, and loaders. DES begins planning early in the year so the program will run seamlessly and cost-effectively.
Each year, staff recruit and hire approximately 40 temporary employees, prepare equipment, train workers, and evaluate data to develop an effective collection schedule. Other County employees post signs, deliver bags, and provide processing and storage support. Still others manage communication updates and answer the phones. And even before the final biodegradable leaf bags are collected, many of these same employees are already working on Christmas tree collection.
In order to continually improve our efforts, we will survey a number of residents at the conclusion of each vacuum pass to assess the quality of the program. Please take the time to let us know how we did. We take your comments very seriously, and together, we can make this year's leaf collection program one of the best on record.
Filed Under: DES • Environment • Featured • Public Safety • Technology • upclose Episodes