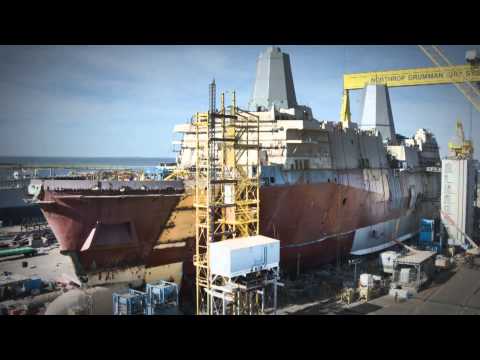 Arlington is proud of its namesake, the Navy's new ship "USS Arlington." The ship will be commissioned at Naval Station Norfolk in early April. Supporters attended a reception at the Army-Navy Country Club, where they heard from the ship's commander and others about the planned Commissioning in April . A Tribute Room on board the ship will recognize and honor first responders and those who lost their lives at the Pentagon on 9/11.
USS Arlington (LPD-24), a San Antonio-class amphibious transport dock, is planned to be the third ship of the United States Navy to be named for Arlington, Virginia, the location of the Pentagon. Like her sister ships, USS New York and Somerset, she is named in commemoration of the September 11, 2001 attacks. Steel taken from the Pentagon after the September 11 attacks will be displayed aboard.
Arlington's keel was laid down on 26 May 2008, at Northrop Grumman's Ingalls shipyard in Pascagoula, Mississippi. She was launched on November 23, 2010, with her christening on March 26, 2011. Mrs. Joyce Rumsfeld, wife of former United States Secretary of Defense Donald Rumsfeld, is the ship's sponsor.
The commissioning date is April 6, 2013 at Naval Station Norfolk.
To learn more about the ship, or to donate, visit the USS Arlington official site.
Filed Under: Featured • Newsmakers Episodes • September 11 History